'Tis the city to be jolly!
As Bordeaux gets into full Christmas swing, Monsieur Le Map is donning his Santa hat and Christmas jumper to investigate the best activities the city has to offer this December. This is a rundown of Bordeaux's festive activities, including two of the city's big annual events: le Marché de Noël and Bordeaux Tasting.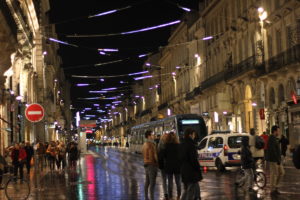 Bordeaux does Christmas as well as anywhere else in France (if we ignore the show-offs in the capital). Get ready for some vin chaud (mulled wine), beautiful lights to brighten up the evenings and MUCH MORE…
Let there be light!
This year, all of the Christmas lighting across the city is 100% LED, and the energy is being provided by the public lighting network- not by generators- as part of the city's ecological commitments. Look out for the giant, beautifully decorated Christmas tree in front of the Cathedral at Place Pey-Berland. If you've got small kids in your company, take them to the Christmas Tree ride by the quays in front of Quinconces !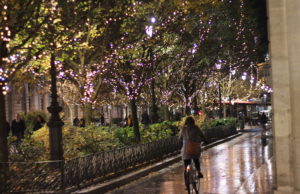 THE CHRISTMAS MARKET (Marché de Noël)
Allées de Tourny
24th November – 26th December
The lights, the music, the cabins, that Christmas tree smell, the smell of mulled wine and… RACLETTE?! Yes, Savoy has thankfully exported its winter traditions of melted cheese to all corners of France…

RACLETTE SANDWICH
For some cheesy goodness, head down the central alley until you find a stall called 'Edelweiss'. You can either choose a savoyard hotdog or cheeseburger. Either way you watch your little blocks of raclette melt in their little spoons and get unceremoniously scraped on to your burger or hotdog. This is where French culture dispenses with airs and graces and goes straight for the tastebuds. It absolutely must be washed down with some traditional…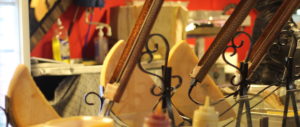 MULLED WINE
Some like it hot! Don't be afraid by the literal translation of vin chaud, this wine isn't simply heated up and handed out in a plastic cup. Just like our mulled wine- although most likely with vastly superior wine, considering where we are- this hot beverage is infused with cinnamon, orange and cloves… and beaucoup d'amour…
GIFTS
Speaking of amour, as you'd expect from a Christmas market, there are many stalls selling various wares. Several come back every year, so you can always have a decent idea of what you might find. Personal favorites are wheat-filled teddies that you can heat up in the microwave (everybody has someone in their family who'd enjoy that, right?) and the Canada stall, which sells delicious maple-flavoured cookies !

BELGIAN BEER STALL
Every year, we cross our fingers and hope that this stall will be back. Thankfully, they are! They always have incredible Belgian beauties on tap and in bottles, with many Christmas-themed options. There is a seating area next to here, where you can sit and eat your raclette sandwich or your crêpe with your friends. Let the Christmas spirit reign!
ALSO NEARBY
Le Bar à Vin – CIVB
La Toque Cuivrée
L'Alchimiste Café Boutique            
CATHEDRAL QUARTER CHRISTMAS MARKET
Place Pey-Berland
December 9th – 24th
This is a much smaller affair, and one with a slightly political twist. This year, the theme 'Made in France' will bring together young entrepreneurs and artisans who have been financed by specifically-created associations, allowing them to display their skills and produce. As nothing is too far to walk to in Bordeaux, it's only 10 minutes away from the much larger Christmas market which is set up earlier at Allées de Tourny. We're told that there will be some great gifts on sale, such as foie gras, chocolate, Christmas beers, sweets, toys and much more!
ALSO NEARBY
Black List
The Cock & Bull
Banana Café
Cheverus Café               
BRIC-A-BRAC VINTAGE FAIR (LA BROCANTE)
Place des Quinconces
November 24th – December 10th
An impressively large antiques and bric-a-brac fair takes over the enormous esplanade of Quinconces twice a year, and at Christmas it's timed perfectly to coincide with the Christmas market that is just a stone's throw away. If you like to think outside the box when buying presents, this must surely be the place. There are long rows of stalls selling various and often very random goods. With so many stalls, it takes a long time to get around them all, so thankfully there are places to sit and eat. Foie gras is a Christmas tradition in this part of the world, and you can enjoy it here with a glass of Bordeaux.
ALSO NEARBY
Nulle Part Ailleurs
Dog & Duck 
BORDEAUX TASTING
Palais de la Bourse, Place de la Bourse
December 9th – 10th
This has to be one of the best annual events in Bordeaux's calendar of events. If the setting doesn't impress you- and that's pretty unlikely- then the great number of Bordeaux wines available for your tasting pleasure won't fail to win you over. The entrance price of 27€ on Saturday and 23€ on Sunday (or 45€ for both- if you have the stamina!) might seem steep, but when you consider that this gives you open access to around 100 of Bordeaux's famous wines as well as special guests from across France and even some from around the world.
The magnificent Palais de la Bourse, where the bulk of the event takes place- is an incredible 18th century palace, and there are stalls set up all over this splendid setting, with each chateau providing you with a taste of their various wines. Just in case the whole thing is in danger of getting a bit boozy, each day is closed with a touch of class. In years gone by, there have been tremendous operatic performances from the balconies in the main hall. If you're in Bordeaux for this weekend, Bordeaux Tasting really is not to be missed.
ALSO NEARBY
Murano
Sweeney Todd's
Houses of Parliament
Phood
Les Fils à Maman
Le Bar du Boucher 
If you know of any particularly Christmas-themed events or of anything interesting happening over the festive period, feel free to post below!
Joyeux Noël à tous !